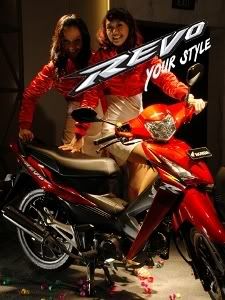 Honda 110 cc Absolute REVO
Official Launched With Many Color Options
PT. Astra Honda Motor (AHM) finally launched the official Honda Absolute REVO 110 cc on 30 January 2009 at the Cafe 3Degrees Jakarta.
With the launch of
Absolute REVO
110 cc is the motor of 100 cc plant production has been halted by AHM so Honda Supra X and the Honda Fit will diskontinue REVO.
Absolute REVO 110 cc promising greater performance but economical dikelasnya.
Color choices are available, among others, quite a lot Affinity Black, Black Silver, Digital Gold, Scarlet Red, Phantom Black, Evening Red, Black Blue, Anchor Gray, Silver Illusive Black and Red.
While the price Absolute REVO Honda 110 cc with a wheel fingers Rp 11.6 million, racing type velg (casting wheel), and Rp 12.9 million velg type racing deluxe Rp 13.5 million